Braunton Engineering Team
Braunton Engineering exists to assist Porsche owners & enthusiasts ensure their vehicles are prepared to the Porsche factory standard, at a realistic price. Their ethos is that a well prepared car delivers both continued reliability and that unique Porsche driving experience. They are dedicated to Porsche sports cars, from owning and driving, through to delivering loving maintenance and repair. 
The team offer the experience from regular testing on race tracks and the preparation & development that their cars, and their customer's track cars undergo. The cars have a variety of upgrades to ensure they remain reliable for the high stress that competitive track driving induces on the vehicle's components and systems.
Attention to the tiniest of details and delivering the highest repair and servicing standards is the key ingredient to making reliable track focused cars. These high standards are passed on to customer's road cars which visit the garage for routine servicing and repair.
They venture further afield a few times a year, visiting France, Belgium and Germany to visit events such as the Le Mans 24 hour endurance race, Nurburgring and Spa Francorchamps tracks.
Head Mechanic/Proprietor
Ashley
Ashley spends many dedicated hours in the workshop but is always on hand to assist a new or regular customer.
Ashley is currently running a 964 Carrera 4, a Cayenne, a 911sc, and a track focused M3. He is the senior MOT tester and oversees the day to day running of the workshops. Ashley is an oracle of engineering know how – a naturally gifted mechanic with a steady hand and an ability to think outside the box… He undertakes the majority engine or gearbox rebuilds.
He is equally at home sorting through vehicle electrics/electronics, removing aged Porsche alarms and thatcham 1 & 2 alarms and immobilisers and tracker systems, fault-finding and occasionally performing routine servicing. He is a dedicated mechanic who enjoys the challenge of rectifying faults and making improvements to the cars that come through the workshop and very much a people person with a customer focused work ethic.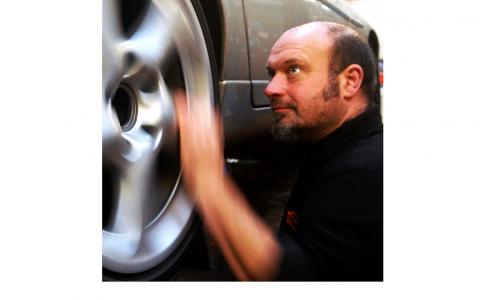 Dave has an artist's gift with fabrication and welding and is the key restoration man.His restoration standard is very close to how these Porsches left Stuttgart but with extra strength for a long future – the website features some photos of Dave's work on 911 chassis restoration - please have a look. Dave is another 'Porschehead' with aspirations of rebuilding a 911SC targa to its former glory and developing a 944 for the track. 
Dave performs a vast amount of the repairs on the Porsche & supercars which come through the workshops. He possesses great patience with fiddly bits of trim etc and performs routine servicing, MOT repairs, fault-finding and repair including auto electics and also has the talent to rebuild engines and road test cars to find a fault or even the source of faint noise. Dave is a disciplined individual who prides himself on being precise and swift in all that he does, and has been with the team since 2001. If you were in a tight spot, you would want a Dave by your side (...if only to deliver humour at just the right moment!).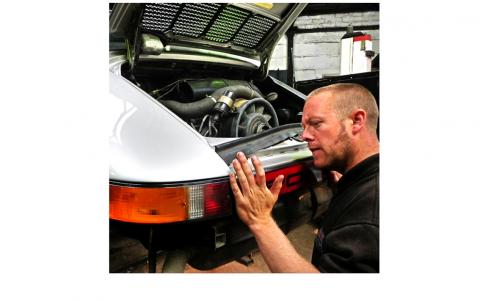 Matt is a technician with many talents - a skillful, highly co-ordinated mechanic who is straight talking and quick witted. He has a welcoming, social way with customers and deals with many of the 996 and 997 and Boxster servicing jobs. He is a valued member of the team and his humour and skills complement the other members. 
Matt has a passion for all things fast, namely fast cars - he fits in well with the other members. He works closely with Dave and together they make a formidable team in the workshop.
This is Matt's second time around working at Braunton Engineering and having just completed 2 years with a VW main dealer. The variety of knowledge he brings back to the garage is a benefit as the team pride themselves on possessing a great depth of core skills and wide-ranging knowledge.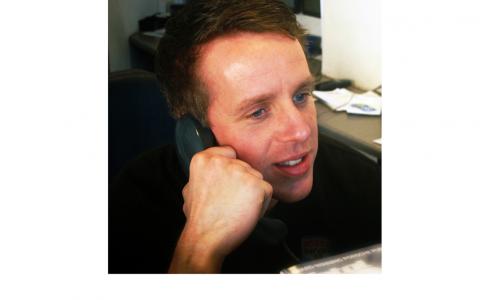 Sales & Marketing Consultant
Chris
Chris' Braunton connection first started as a customer, when he moved to Devon from the South East.
His various Porsche projects demanded frequent visits to the garage and this developed into them working together. He now promotes Braunton Engineering's services to fellow Porsche enthusiasts online, at shows and in the magazines: 911 & Porsche World, Total 911, GT Porsche, Porsche Post.
He has spent many hours working on and driving his own sports cars over the past 32 years, and has owned many different Porsche's in that time. He has run a 928GT for the past ten years, along with the current projects; BMW M3.
Prior to working with Braunton Engineering, his job involved travelling the length and breadth of the UK. At that time he utilized a variety of reputable Porsche Specialists & AFN Main Dealer in the South East of England for maintenance and repair work - he has spent time on both sides of the counter.